By JERRY PAINTER jpainter@postregister.com Jul 22, 2020
The self-professed "Latrine Queen" has struck again.
If you're on the south side of Henry's Lake on Bureau of Land Management land and nature calls, prepare yourself for an artistic experience.
In an effort to spruce up its property at Henry's Lake, the BLM improved the dirt road, worked on fences and replaced portable toilets with two new vault toilets. The BLM also plans to eventually upgrade the primitive campsites and work on bank stabilization there.
Monica Zimmerman, outdoor recreation planner for the BLM's Upper Snake Field office saw the blank interior walls of the new vault toilets as empty canvasses. Zimmerman was put in contact with Helen Seay, a Tetonia artist who painted murals on three other vault toilets along the Teton River last summer.
"I wouldn't say it's a regular gig, but people hear about it and see it, it gives them an idea to reach out to me," Seay said. "It's not something I'm doing every month or that I market myself as, but I'm happy to do art anywhere, anytime."
Seay started working on the murals in June and finished the restrooms a couple of weeks ago.
Bruce Hallman, a BLM spokesman, said the reaction has been enthusiastic.
"Nothing but wow, that it's the best bathroom ever," Hallman said.
"Wish more camp restrooms looked like this!" wrote Nyta Pea on the Bureau of Land Management – Idaho Facebook page.
Seay said each mural is unique and she tries to match the artwork to the surroundings. One restroom she completed at Spring Hallow near Felt east of Ashton on the Teton River had a special request.
"I try to learn about the area and the flora and fauna for every bathroom that I go to," she said. "The Spring Hallow one I asked if there was anything they wanted to see me paint. One of the ladies of the Friends of the Teton River told me, 'I really want you to paint a canyon wren,' because it's the only place in Idaho she'd ever heard a canyon wren." Seay also included fishermen, rafters and bighorn sheep because "(Idaho) Fish and Game was saying that it was an old winter range for bighorn sheep."
At Henry's Lake, Seay painted one restroom with a variety of birds and the other with a fishing theme. "It's kind of a fisherman's paradise and a birder's paradise."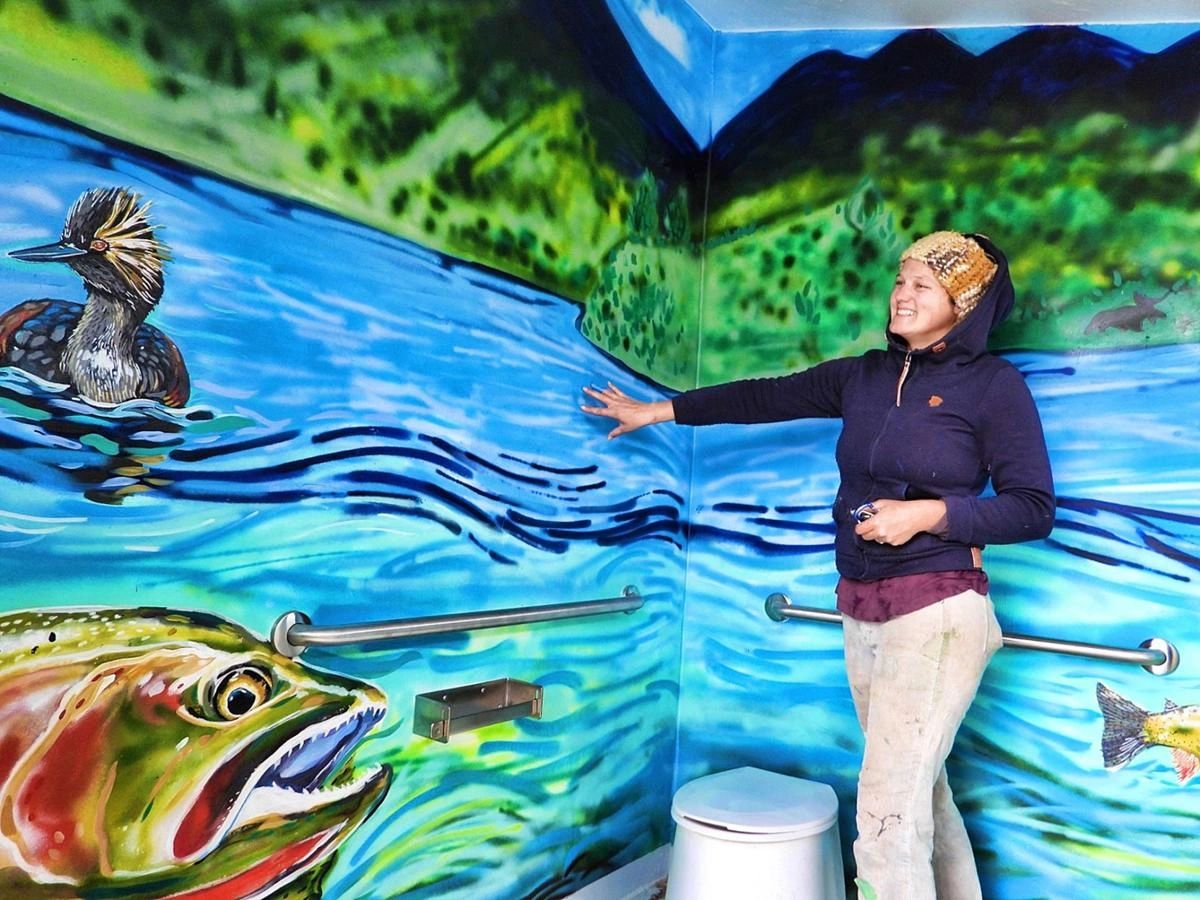 Zimmerman said the Henry's Fork Wildlife Alliance and Henry's Lake Foundation contributed ideas and funding for the murals.
Seay is a Georgia transplant who said most of her art is on canvas or wood, but also sells artistic hats, T-shirts, postcards and prints. Her business webpage can be found at helenseayart.com.
"I have been doing the annual posters for Grand Targhee Bluegrass Festival and Targhee Festival, but those got canceled this year unfortunately because of COVID," Seay said.
View original article here